Attention Workshop Attendees.  The Sheraton Silver Spring Hotel for the 2018 National Workshop is fully booked. 
The nearby Courtyard Silver Spring Hotel is now providing a small number of rooms for Workshop attendees.  A reduced rate of $179 per night is available if booked by Wednesday, April 11th.
To make a reservation, please use this link:  
Book your group rate for National Workshop on Christian Unity here.
Hotel information:  Courtyard Silver Spring Downtown | 8505 Fenton Street | Silver Spring, MD 20910 | (301) 589-4899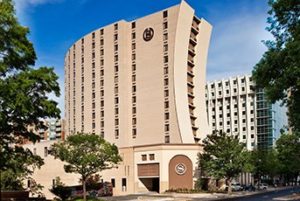 Sheraton Silver Spring Hotel
8777 Georgia Avenue | Silver Spring, Maryland
Sheraton Silver Spring Hotel is located in downtown Silver Spring, Maryland within the Washington, D.C. metro area. The hotel is within walking distance to local businesses, more than 20 restaurants, and many entertainment venues, including the American Film Institute Silver Theater.  The Silver Spring Red Line Metro stop is just a few blocks away, and the hotel also provides a complimentary shuttle to the station.  There is a 24-hour fitness center on site and a full service coffee shop in the lobby open until 9:00 p.m.
The Mica Restaurant at the Sheraton serves breakfast, lunch and dinner. The Mica Lounge is serves beverages and light snacks from 4 to 11 p.m. daily.